OUR SERVICES
We provide our agriculture clients with a full complement of legal services to assist with the varying needs as the seasons change:
Preparation
Entity Selection and General Corporate
How you set up your farm or agriculture operation can have a lasting impact on how you do business. We will help you in all stages of the life cycle, from selecting and structuring an appropriate entity, to raising capital to support the entity's growth, to executing a successful exit strategy or transfer of control to the next generation of the family owners.
Environmental Compliance
Environmental regulations from at the federal and state level have a lasting impact on agricultural operations. Whether you need assistance with issues around the Clean Air Act, the Clean Water Act, underground storage tanks, the handling of solid and hazardous waste or compliance pesticide and herbicide regulations, Vorys stands ready to assist.
Estate Planning & Succession Planning
Ensuring that your agricultural operation is ready for the next generation is critical. Vorys provides a full range of estate planning services designed to meet your personal, economic and tax planning goals. Our basic estate planning services include preparing wills, revocable trusts, financial powers of attorney, health care powers of attorney and living wills. Our lawyers also specialize in succession planning for owners of farms and agricultural operations, including inter-generational strategies to transfer wealth and control.
Grow
Financing
Agriculture is big business, whether a family farm or an agricultural services provider, operations require significant cash flow to maintain and grow. We negotiate, prepare, and review numerous forms of loan and financing documentation, including credit facilities for working capital, long-term, and acquisition purposes. We also advise our corporate clients in all types of real estate financing and leasing as well as equipment leasing.
Economic & Tax Incentives
Local, state and federal economic development incentives can assist agricultural operations in expanding and even to help fund new construction projects. Our work spans the nation, having consulted on incentives deals in more than 30 states, for organizations of all sizes. Vorys is at the forefront of the new Qualified Opportunity Zone (QOZ) program, a part of federal tax reform, which ultimately may provide agricultural producers to take advantage of a new potential source of capital for their businesses and real estate developments located in QOZs
Real Estate
Real estate is critical to most farmers and agricultural producers and Vorys has deep experience assisting clients with the litany of real estate projects, such as financing, acquisition, sales, zoning, land use, construction, development and leasing. We also assist our agriculture clients with property management agreements, title issues and issues surrounding jointly-owned farm property. We advise clients on farm property designated as "agricultural district," including on the reasons for and against designating farm land as an agricultural district and advising on the risks and penalties for taking property out of agricultural district designation. We assist agricultural clients with real estate transactions involving state grants, such as the Clean Ohio Fund.
Harvest
Contracts & Commercial Agreements
In the agriculture world, products and services are produced, bought, sold, leased, licensed, delivered, and inspected on a daily basis. All of these transactions involve some form of contract - whether written or oral, express or implied - between the parties to the transactions. We help you ensure your contracts meet your expectations, maximize efficiency, minimize cost, and appropriately address and allocate risk. Our lawyers learn your businesses, expectations, and desired outcomes, strategize with you on methods to achieve the most advantageous contract terms, and help complete the contracting process so that you and other contracting parties have a clear, unambiguous understanding of their rights and obligations. We can provide you with contract counsel on the entire realm of contracts, including those related to government subsidies and set-aside programs.
Eminent Domain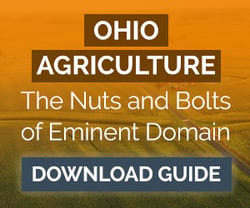 We have significant experience representing farmers in cases all over the state when the government uses its power to take farmland through eminent domain related to road projects, flooding, pipelines and utility easements. Our team understands the tactics of governments at municipal, county, state and federal levels and knows exactly what to expect.
We've represented farmers in numerous matters including:
When a farmer turned to Vorys, after the Ohio Department of Natural Resources offered our client only $220,000. We took the matter to a jury trial and won nearly six times what was originally offered.


When ODOT constructed a limited-access highway that bisected our client's farm, the jury awarded our client more than $625,000 above the State's "good faith" offer.


When Franklin County implemented a road-realignment project that took the corner frontage of our client's farm, Vorys was able to negotiate a settlement on behalf of our client for more than $800,000 above Franklin County's initial offer.
Taxation
Whether you are dealing with the tax treatment of real estate transfers, the valuation of your real property, public utility tax or business income tax, you can count on the lawyers at Vorys to protect your interests. Our lawyers focus on working to identify and implement planning opportunities, to explain tax consequences, and to develop appropriate approaches to state and local tax issues. When disputes arise, our attorneys vigorously defend our clients in tax audits and seek to develop creative approaches to resolving tax disputes.
Maintenance
Labor & Employment
Agricultural operation owners and managers are the first line of defense against exposure to often-times costly employment litigation. We assist companies and managers in anticipating and preventing employee relations problems through education, training and counseling. We also assist our agricultural clients in preparing and implementing personnel policies designed to minimize potential liability and establish best practices. We offer strong experience in Ohio workers' compensation, the Occupational Safety and Health Act (OSHA), the Americans with Disabilities Act (ADA), the Family and Medical Leave Act (FMLA) and all claims against employers related to the physical and mental health of employees. We also draft employment manuals, drug and alcohol testing policies, and other documents regulating the workplace, and we provide training so that our clients' supervisors and managers act in ways that comply with the law. We help our clients to create, implement, and amend employee benefit plans and we assist our clients in securing employment-based immigrant and nonimmigrant visas for their workforce.
Intellectual Property
Vorys offers a full suite of intellectual property services that focus on the needs of farmers and agricultural operators. From trademarking names and logos to assisting with patents related to processing, development, production and packaging, our team will guide you through the complex strategic planning, sensitive negotiations, and other important details of intellectual property protection. We also work with the creators of intellectual property to ensure that their efforts do not infringe the rights of others.
Litigation
Vorys has the experience to assist agricultural operators in every imaginable kind of dispute, whether it's related to business agreements, nuisance issues, ownership of abandoned railroad corridors, utility easements or licenses, adverse possession, personal injury, environmental, employment, construction water/flooding and other business/property disputes or losses.
Appellate
Vorys regularly monitors agriculture-related litigation in appellate courts across the country to ensure that we, and our clients, are knowledgeable about important new developments in agriculture law. In addition to successfully litigating appeals from our own cases, Vorys has filed amicus curiae ("friend of the court") briefs on behalf of clients in state courts, including the Supreme Court of Ohio, and federal courts, including the Supreme Court of the United States, to ensure that the interests of our agriculture clients are fully considered and represented in key cases.
Bankruptcy
Whether your operation, or your suppliers or customers, are facing financial difficulties, the Vorys bankruptcy team can assist. We can provide agricultural operations with guidance on in-court and out-of-court debt restructurings, asset protection and recovery, and debtor/creditor matters.